about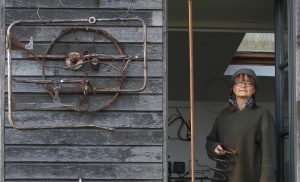 Julie Cuthbert
My current practice is project-based working in a variety of media including photography, painting and sculpture.
I begin with a concept and then gather information, working intuitively. I like to be immersed in and respond to an environment. Photography is a tool for me to record, review and contemplate and inspires work in other media. It can also become the medium itself. Certain things seem to rise to the top which I then try to understand. The concept is an important part of my work, but as meanings emerge from what I am creating, the final concept may change from the one that was the starting point.
The media I use in the finished work is the one that best expresses the subject matter.
I prefer to use existing materials in my work – something that has already had a life and preferably comes from the environment in which I am working – I am very conscious of its previous use and how I am at once subverting that, but also giving it a new lease of life.
Artists who inform my work include Cornelia Parker, David Smith and Alexander Calder.